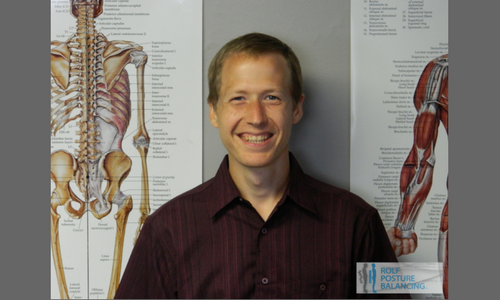 Bloomington native, Philip Clampitt, has studied and been certified in many healing modalities since 2004, including Mindfulness Meditation, Reiki, Tai Chi, Vibrational Healing Therapy, Breathwalk, Kundalini Yoga, and Rolf Method of Structural Integration. He became interested in the healing arts to enrich his health and wellness through stress management.
The way Philip became interested in Rolf Method of Structural was when he was in his twenties. When he was a teenager until mid-twenties he had suffered from upper back, neck, and shoulder pain off due to a curvature of the spine, he also suffered from stress related chest pain, only finding momentary relief through chiropractic and massage. Only after receiving the Rolf Method of Structural Integration's posture balancing program, did he actually get the relief he was looking for.
He became a Practitioner of Rolf Method of Structural Integration as taught by Ida P. Rolf after graduated from the Guild for Structural Integration in Boulder, Colorado in August of 2011. Immediately after graduating, he moved to Chicago to gain clinical experience at Chicago Chiropractic & Sports Injury Centers. Philip worked at the clinic for 6 years acquiring over 3500 hours of clinical experience with over 30 conditions.
In Chicago, he gained valuable experience working with a team of top rated Chiropractors, Naturopaths, Physical Therapists, Acupuncturists, Podiatrists, Massage Therapists, and Rolf Practitioners of Structural Integration. Philip worked with people with all walks of life. He worked with every type of ache and pain from the average office worker to weekend warrior to the sports injuries of professional athletes from the NBA and NHL. He has worked with hundreds of athletes for every kind of body performance work you could imagine including CrossFit people, marathon runners, powerlifters, Yoga and meditators, martial artists, dancers, and much more.
Currently, he moved back home to the Bloomington area and is in the process of reestablishing his Rolf Method of Structural Integration practice in the Bloomington Indiana area.
Philip's clinical experience differentiates him from other practitioners in the state of Indiana. Currently to the best of his knowledge, he is the only Structural Bodywork practitioner in the state offering the original Ten Series posture balancing work as taught by Dr. Ida P. Rolf who has over 3500 hours of experience practicing under the direct supervision of a sports medicine doctor.
Philip also offers Therapeutic Sound Bath Therapy using special soundwave instruments that promote many therapeutic health benefits. He has been studying the Vibrational Healing Arts and Meditation ever since he got his first Quartz Crystal Singing Bowl in 2004. In his Therapeutic Sound Bath practice, he plays gong for soundwave meditation workshops using his 32" Paiste symphonic gong and he also provides Crystal Bowl Sound Baths playing a set of 13 large Quartz Crystal Singing Bowls for workshop events. Combined with the sound baths he has incorporated special meditations from the kundalini yoga tradition to promote better brain function through stress management and general over all wellness.
.